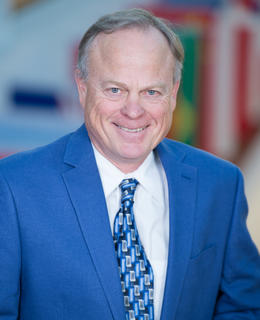 Allan Ingelson
Positions
Executive Director
Canadian Institute of Resources Law
Professor
Haskayne School of Business, Strategy and Global Management [SGMA]
Background
Educational Background
LLM University of Denver, 2003
LLB University of Calgary, 1990
BSc University of Calgary, 1985
BA Political Science, University of Alberta, 1979
Biography
Allan joined the Faculty of Law in 2008. He is the editor of the Canadian Energy Law Service (Carswell). He holds memberships in the Canadian Bar Association, the Association of International Petroleum Negotiators, the Academy of Legal Studies in Business, and the Law Society of Alberta. He has lectured on energy and environmental regulation in Lima, Peru; Houston, Texas; Delhi, India, Beijing, China, Sao Paulo, Brazil, Colombia and Doha, Qatar.
Memberships
Law Society of Alberta
Canadian Bar Association
Association of International Energy Negotiators
Academy of Legal Studies in Business
Research Activities
Journals in which Allan has published scholarly papers include the Journal of Energy and Natural Resources Law; Oil, Gas and Energy Law (OGEL); Journal of World Energy Law and Business; Natural Resources Journal; Law, Environment and Development Journal; Environmental Liability: Law, Policy and Practice and the Energy Law Journal. His research focuses on comparative energy and environmental law, comparative mining law, regulation of the Canadian energy and mining sectors, renewable energy law and heritage resources law.
Allan is the General Editor, Canada Energy Law Service, published by Carswell, Thomson Reuters (Toronto), 2012 – present. He is currently co-editing the 2nd volume of Environment in the Courtroom.
Research
Areas of Research
Canadian and international comparative energy and mining law, Canadian and international environmental regulation, renewable energy law, public lands law
Participation in university strategic initiatives
Awards
Great Supervisor Award,

Faculty of Graduate Studies, University of Calgary .

2018

Willoughby Prize for an article of Outstanding Merit,

Journal of Energy and Natural Resources Law.

2018

Great Supervisor Award,

Faculty of Graduate Studies, University of Calgary.

2015

Dean's Award for Outstanding Leadership in Teaching and Learning,

University of Calgary.

2009

Dean's Award Teaching Excellence (HM),

University of Calgary.

2001

Students' Union Teaching Excellence Award (HM),

University of Calgary.

1994
Publications
"CO2 Capture & Storage Liability in Canada & Mexico".

Allan Ingelson. 25(5) Environmental Liability – Law, Policy and Practice. 187-199. (2020)

"Technological innovation to enhance security of tenure for mineral claim holders".

Allan Ingelson. 38(1) Journal of Energy and Natural Resources Law. 23-46. (2020)

"Plugging the Holes – New Canadian and US Regulations to Reduce Upstream Methane Emissions".

Allan Ingelson. 11(4) Journal of Energy Law and Business. 294-313. (2019)

"Regulating Energy Innovation: US Responses to Hydraulic Fracturing, Wastewater Injection and Induced Seismicity".

Allan Ingelson. 35(2) Journal of Energy and Natural Resources Law. 109-146. (2017)
Environment in the Courtroom.

Allan Ingelson, ed.. University of Calgary Press. (2019)

"The Legal Framework for Sustainable Development of Oil Sands Deposits in Sub-Saharan Africa: A Critical Analysis".

Allan Ingelson and Chilenye Nwapi. in The Environment, Legal Issues and Critical Policies: An African Perspective. (2018)

"Policies & Laws & Island Environments".

Allan Ingelson and Christopher Phillips. in Sustainable Energy Mix in Island Environments: Frameworks & Perspectives. (2018)

"Canada's Northern Coastal Zone: Is Technology Enough?".

Allan Ingelson and Mary-Ellen Tyler. in Sustainable Energy Mix in Island Environments: Frameworks & Perspectives. (2018)
Invited moderator, presenter and panelist, "Shale Oil and Gas Development in Western Canada".

7th Shale Water Management Congress. (2019)

Invited presenter and panelist, "The Regulatory Frameworks for Reuse of Produced Water".

Water Management for Western Canada's Tight Oil and Gas Plays Conference. (2018)

"Enforcement of Canada's New Methane Regulations".

Enforcing Canadian GHG Emissions Law. (2018)

"Geothermal Energy & Liability for Induced Seismicity in Alberta".

Alberta Energy Deep Geothermal Energy Policy Consultation Workshop. (2018)

"Best Practices for Mine Reclamation Security & Sustainability".

Resources for the Future. (2018)

"Canadian Oil and Gas Development" – Consultation with Indigenous Peoples".

Visiting delegation of 23 senior executives from the India Oil & Natural Gas Commission, Shastri Indo-Canadian Institute. (2018)

Keynote speaker and panelist – "Emerging Opportunities and Trends in Canadian Sustainable Energy Development".

Global Lawyers of Canada. (2017)