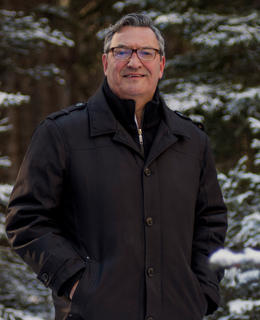 Brian Calliou
Positions
Assistant Professor
Faculty of Law
Background
Educational Background
LLM Natural Resources Law, University of Alberta, 2000
LLB University of Alberta, 1995
BA Political Science, University of Alberta, 1990
Biography
Brian began his career as an associate with Tony Mandamin in Edmonton, Alberta, before starting his own practice in the areas of Aboriginal law, small business and non-profit law, real estate, and personal injury.
He has been involved in community and economic development initiatives with Aboriginal agencies, organizations and entrepreneurs for many years.
From 2003 to 2021, Brian held the role as Program Director of Indigenous Leadership Programs at the Banff Centre for Arts and Creativity. He has developed and taught courses as a sessional instructor for the School of Native Studies at the University of Alberta and for the Faculty of Communication and Culture at the University of Calgary.
Brian is a member of the Sucker Creek First Nation in northern Alberta.
Research
Areas of Research
Indigenous Law, Indigenous Economic Development, Indigenous Leadership, Restorative Justice
Courses
| Course number | Course title | Semester |
| --- | --- | --- |
| LAW 579 | Residential Schools Litigation | |
Publications
"A Wise Practices Approach to Indigenous Law, Governance and Leadership: Resistance Against the Imposition of Law".

Brian Calliou. Robert Hamilton, John Borrows, Brent Mainprize, Ryan Beaton and Josh Nichols, eds., Wise Practices: Exploring Indigenous Economic Justice and Self-Determination. (2020)

"Leadership and Management: Competencies for Indigenous Community Economic Development".

Brian Calliou. Keith G. Brown, Mary Beth Doucette and Janice Esther Tulk, eds., Indigenous Business in Canada: Principles and Practices. (2016)

Restorying Indigenous Leadership: Wise Practices in Community Development, 2nd Edition.

Cora Voyageur, Laura Brearley and Brian Calliou. Banff Centre Press. (2014)

"From Paternalism to Partnership: The Challenges of Aboriginal Leadership".

Brian Calliou. David Long and Olive Patricia Dickason, eds., Visions of the Heart: Canadian Aboriginal Issues, 3rd Edition. (2011)

"The Significance of Building Leadership and Community Capacity to Implement Self-Government".

Brian Calliou. Yale Belanger, ed., Aboriginal Self-Government in Canada: Current Trends and Issues, 3rd Edition. (2008)
"Overview of the Study of Indigenous Leadership and the Development of Indigenous Leaders".

Leadership: Courage Required, 21st Annual International Leadership Association Conference . (2019)

"Leadership for Reconciliation with Indigenous Peoples" keynote address.

Action, Chinese Canadians Together Foundation. (2019)

"Inspiring Indigenous Youth to Lead Positive Change – Traditional Wisdom for Creative Leadership" keynote presentation.

Creative Leaders Conference hosted by Congress of Aboriginal Peoples. (2019)

"Restorying Indigenous Leadership: Wise Practices".

8th Annual New Mexico Storytelling Conference. (2018)

"Research in Indigenous Leadership Development".

Indigenous Research Symposium sponsored by Queen's University. (2018)